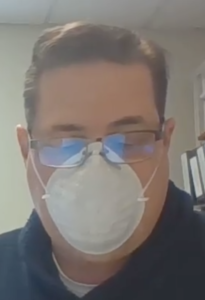 The Hamilton Board of Health members and its staff are fully aware of the controversy regarding whether residents should wear masks. In the judgement of the board, the benefits greatly outweigh the negatives, provided that Hamilton residents do not attempt to accumulate N95 or surgical masks, because those must be reserved for hospitals and medical/EMT professionals.
The main benefits of masks are:
1) Provide at least some – not 100% but better than nothing – protection from airborne transmission of COVID19, both for the wearer (from others) and for the public (from the person wearing the mask if they are infected but don't know it)
2) To helps inhibit someone from touching their own mouth, nose, and eyes
3) To encourage others, upon seeing the mask wearer, to move away from them, thus achieving the critical result of "social distancing"
4) To sends a subconscious signal to everyone that maybe it's time to do the same for selfish reasons
What kind of mask? The Board of Health has seen some amazing ideas, including:
1) Wrap a scarf twice around your face
2) Tie a doubled-over bandana around your mouth and nose
3) A ski mask or balaclava
Additionally, there are many great online resources.
A simple, easy mask: https://www.facebook.com/groups/1957379347638022/permalink/3739219496120656/
An article about masks by a medical doctor: https://www.medscape.com/viewarticle/927890#vp_2
The Hamilton Board of Health expects to see many more residents wearing masks now – thank you for your cooperation.