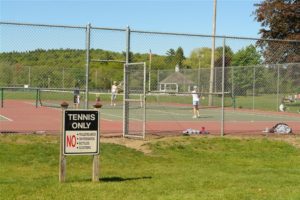 Tennis courts in Hamilton will open on Monday, June 1 with the guidelines listed below. Playgrounds and basketball courts in Hamilton will remain closed.
In accordance with state Department of Public Health Guidelines:
· Users should sanitize hands before and after play, not share equipment and clean and wipe down equipment, including racquets, balls, and water bottles.
· Users waiting to utilize a court should wait outside the court's gates/fence until previous users have vacated the facility to ensure proper social distancing and prevent accidental contact of other users' equipment.
· Users should not engage in pick-up games, organized games, or tournaments.
General Rules for Facility Usage
· If you are not feeling well, stay home.
· Wear face coverings in accordance with Governor Baker's Order Requiring Face Coverings in Public Places Where Social Distancing is Not Possible.
· Physical distancing must be practiced at all times, with a minimum of 6 feet from others
· No activities or gatherings of more than 10 people
· Avoid touching surfaces/equipment, as they are not being disinfected
Town of Hamilton Guidelines:
· Courts are for singles use only. No doubles tennis is allowed.
· Players should bring their own balls and not pick up or touch other tennis balls.